Friday, November 25, 2022
Guest Blog: Interview with Fierce Flyer from the Poptropica Creators ??
Meet Fierce Flyer!
1. How were you first introduced to Poptropica?
It's all thanks to my sister really. I remember back in elementary school, in the late 2000s, I would look forward to staring at her computer screen. Well, up until the day I thought to myself, "Hey, maybe I should give this Poptropica thing a try myself!"
2. Who do you think is the most underrated character? Overrated?
A name that immediately comes to mind for me as criminally underrated is Merlin. I feel as though Merlin gets lost in the masterpiece that is Astro-Knights Island. I mean, the bird sacrifices himself to save your Poptropican. Any respect Merlin has received through the years needs to be tripled, 'cause I don't hear nearly enough about this saint of an owl.
As for overrated, it's gotta be Dr. Hare, right? I mean, no disrespect to the doctor who decided to wear a pink bunny costume but, surely his PhD could've gone to better use elsewhere.
The way to an owl's heart is through its stomach.
Dr. Hare illustrated by Fierce Flyer
3. What are your favorite scenes, aesthetically and to play through?
Purely for the aesthetics, I've gotta go with Episode 1 of Survival Island. I really felt like I was there, like I was freezing and needed warmth and not just in the game. Getting that full immersive experience plus the beautiful scenery, is both nostalgic and was revolutionary to Poptropica.
Survival Island, Ep. 1 wallpaper
4. From your perspective, how have you seen the Poptropica Help Blog (PHB) and community change over time?
Change is inevitable. In the Pop community, the biggest changes that I dealt with were fellow bloggers and Poptropica enthusiasts coming and going. But through it all, my fond memories with them remain dear to my heart, and I have a feeling they would say the same.
5. How has your PHB career surprised you?
Joining the PHB has gotta be a top 10 moment in my life in terms of excitement and happiness. I was over the moon when I was welcomed in, and was pleasantly surprised to find that through joining the blog, I also became a stronger writer.
Fierce Flyer at the blue carpet of the Poppies 2018
6. What inspires you?
I could go on and on about the many things I see and learn everyday that inspire me, but if I had to choose just one, it'd be my older brother and fellow PHB author Sporty Boa. He's played a pivotal role in the progression of not only my creativity, but also my journey of becoming my best self. So, shout-out to my brotato chip!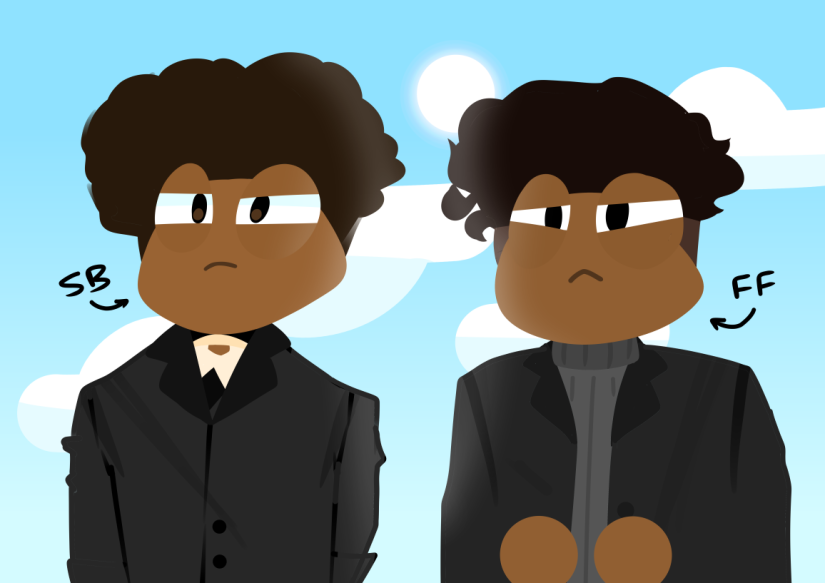 Sporty Boa and Fierce Flyer at the PHB's Flash funeral for Poptropica
7. What does the Pop community mean to you?
This community means so much to me; it's hard to just put it in words, as corny as that sounds. I've recently turned 18, so I'm officially an "adult," and I can truly say that the Poptropica community — everyone I've had the pleasure of meeting — will hold a special place in my childhood as a cornerstone of my life growing up.
8. How have your experiences with the community and Poptropica influenced you IRL?
Oh for sure! My blog, Fierce Flyer Adventures, began as a Poptropica site, but has also branched out a bit. I made a post 4 ½ years ago called "The Oath of Socialization" where I basically challenged myself to break out of my shell and be my authentic self around others. That post really changed my life because, although it was only supposed to last for a week, I've been running with it to this day.
Vanquish E. Vile by Fierce Flyer
9. Outside of Poptropica and your PHB involvement, what are you passionate about?
I'm super passionate about sports — all kinds, really. Anything with a ball, and sometimes a puck or wheel, I'll be watching it. Along with that, a passion I've always had is creating stories. I want to be an author one day, or a director/writer for my own show or movie!
Fierce Black Panther by Fierce Flyer
Favorites
Island

: It's a toss-up between Mystery Train and Reality TV, but I'll give a slight edge to Mystery Train because of its captivating story and endearing characters.

Backstory/Lore:

 Ringmaster Raven. Such a captivating character with a truly tragic backstory, can't help but to feel bad for him…

Character:

 My guy Edgar! Every time he showed up on my screen I was grinning, a bright spot in an otherwise disturbingly creepy environment on Monster Carnival.

Villain:

 Poptropica has so many great villains, but the cake goes to Director D 'cause as a kid, I thought he was the coolest dude ever. Here's a hot take: I think he could rock the bald look!

Costume:

 There are a lot of iconic costumes, but the one I remember the most, and 

always 

used, was the Midnight Ninja outfit. I would literally try to find any excuse possible to throw that thing on.
---
Thank you to Fierce Flyer for the interview – it was an absolute pleasure and the series has been a lovely opportunity to learn more about you and the Poptropica Help Blog's team as a whole! See more of Fierce Flyer's writing and contributions on the PHB! ✨