Monday, July 11, 2022
This Week: Clubhouse Additions and Baron Traditions ?‍☠️✨
Happy Monday, Poptropicans!
We're finding ourselves in the dog days of summer – hope you're enjoying your summer break and staying hydrated! On the docket for today: this week's shop rotations, clubhouse store stocks, and Baron send offs!
Like last week, the shop's current rotation features the new Cloaked Rogue and Demon Mischief costumes, available to all players for 350 credits each. And just like the Baron's Cabin of Curiosities, Rumpel appears to have infiltrated Amelia's storefront too! Members can add the magic man's signature 'fit to their wardrobes for 250 credits.
For those seeking summer solace but aren't sure water wear, the Water Battle (250 credits) and Water Fight (250 credits, members only) costumes include shorts, sunglasses, and giant super soakers. Shell-abrate summer break and dress accordingly! ??
As for decorations, this month's clubhouse catalog has gotten a refresh. Find clubhouse gear inspired by Jade Scarab, Goofball, and 24 Carrot Islands, alongside the rare Rumpel décor from the Baron's Airship.
It's worth mentioning that the cabana clubhouse goodies are still in stock over in Adventure Outfitters. Choose between two kinds of Potted Palm Trees (75 credits each), White Beach Chair (100 credits), Torch (75 credits), Popsicle Painting (75 credits), and huge variety of sweet summer treats for 75 credits each – Ice Cream Sundae, Fruit Smoothie, Coconut Drink, Fruit Basket, and Fruity Pies. While you're stocking up, don't forget to add the Sea Monster Floatie and Seahorse Floatie (100 credits) to your carts! ??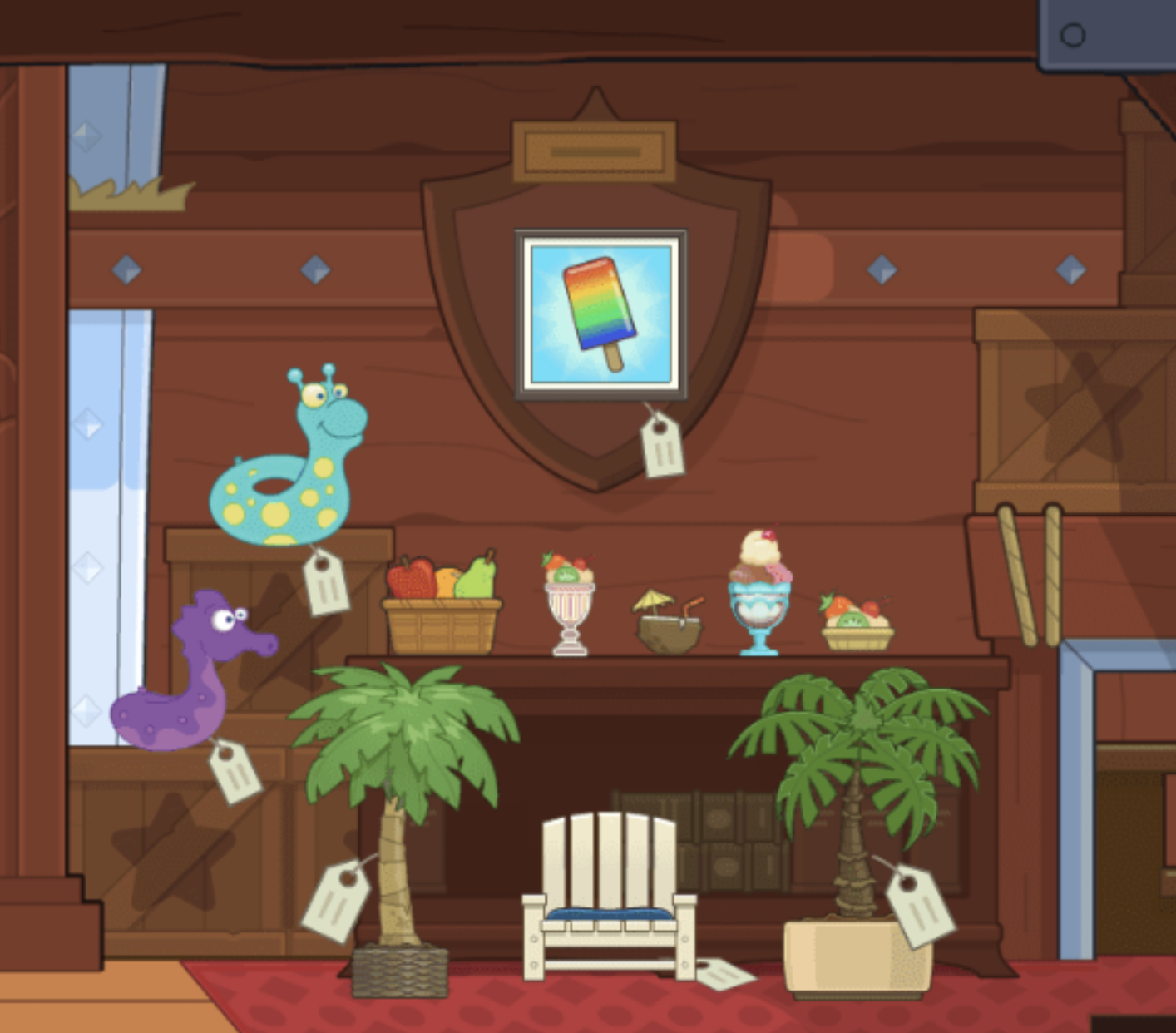 To wrap up today's shop updates, it's almost time to bid the Baron bon voyage! Rumor has it, the Airship will be heading back out to open ocean air this Wednesday! Don't miss this month's wild collection from the Cabin of Curiosities, particularly the free winning Star Kid costume (shoutout to Busy Bee!) and the brand new Rumpel rendezvous decorations. The clock's ticking! There's less than 48 hours before the Baron's July visit is over – visit the flying vessel on desktop and mobile before this special edition Airship disappears! ?‍☠️
Who's hanging out on the Airship? The Team has spotted a ton of players' sporting swanky styles on the flight deck this past week! We'll be popping in throughout the next two days to find more standout looks, some of which will be featured in an upcoming post!
Catch you on the Flight Deck, pop stars!