Wednesday, January 19, 2022
Guest Blog: Poptropica Tribes Are NOT Dead! by Golden Crown 👑🌟
Hey, Poptropicans, and happy New Year! Golden Crown here with a very interesting Poptropica observation!
While there are many Poptropica traditions I'm sure you miss, there is one, in particular, that was recently brought back to my attention: Tribes! Do you know what the Poptropica Tribes are? Here is Busy Hopper's description of Tribes:
"Back in the days of old Poptropica, the Poptropicans were put into tribes. There were the Nanobots, the Yellowjackets, the Wildfires, the Pathfinders, the Seraphim, the Nightcrawlers, the Flying Squid, and the Black Flags. Back then, you got to hang out in the tribal rooms, adjust your tribe on the friends' page (customizable page with all your info on it), and compete on an island called the Poptropolis Games, where all the representatives of each tribe compete in simple challenges (diving, hurdles, etc.) to win glory for their tribe. Recently, almost everything related to the tribes disappeared, and people stopped caring about what tribe they were in. Tribes were a big part of Poptropica, and many players have agreed to help restore the importance of the tribes."

 - Busy Hopper                                                                                                                     
Me, Golden Crown, Wearing a Pathfinders' Outfit!
The Poptropolis Games were a huge part of Poptropica way back when, and everyone misses Tribes. However, just because the Poptropolis Games are no longer around, that doesn't mean Tribes bit the dust. 
I'm sure that we're all familiar with the function after you complete an island that allows you to find your rank in comparison to other players for that island.                     
To find your rank, you have to put in your username. Once it has been put in, it will show you your rank, but did you ever realize that it also shows your Poptropica Tribe?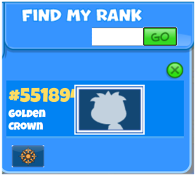 There it is! Pathfinders! It's right there in blue and yellow.
What do you think? Could this be a foreshadowing of what is to come? Maybe you've been playing Poptropica for a while, and already have a tribe! If you haven't, choose one by looking at the links at the bottom of this post. If you want to be a Pathfinder, like me, come to my clubhouse and friend me! My username is SisiVince1. Dress up in your tribe's colors!  Please be mindful that we are trying to bring tribes back for the purpose of rebuilding our Pop community and bringing back a wonderful Poptropica tradition, not to create conflict between Poptropicans.
Keep Popping on, Poptropicans!
- Golden Crown 👑
---
For more info about Poptropica's tribes, check out the PHB's Tribe page!