Monday, November 22, 2021
Store Update: New cute, cozy, and cuddly items are available in Adventure Outfitters! 🥶🧥🥧
Happy Monday, everybody! To those that celebrate Thanksgiving, enjoy this week's holiday and the break from school!
This week's store update is all about cuteness! Adventure Outfitters' newest inventory drop offers Poptriopicans more snuggly sweater options for both you and your pet! Let's check out what new inventory Amelia's picked out for us!
Are you in the mood to switch up your Popsona's winter threads and match your cozy seasonal looks IRL? Try the new Cool Autumn sweater set from AO! The cute and comfy costume is available to all Poptropicans for 250 credits. Experiment with dressing the oversized sweater up or down to fit your taste! What costume elements are you planning to pair with the look? 👀
And who could forget our precious pets? The store's pet section also got an upgrade! There are 3 new coordinating costumes to match your companion!
The latest pet release features a handful of matching accessories to dress your pet! All players can coordinate their pets and Popsona's with the Sweater Buddy and Snug Bean costumes! Members can also add the sweet Slice of Pie outfit to their pet's wardrobe! As usual, all pet costumes are available for 75 credits.
While that wraps up the new inventory, AO's Goofball gear is still available for a limited time. Snag your own version of Mayor Naise's cukoo clock hat, Hatters Gonna Hat, and a cornucopia of food related fashion!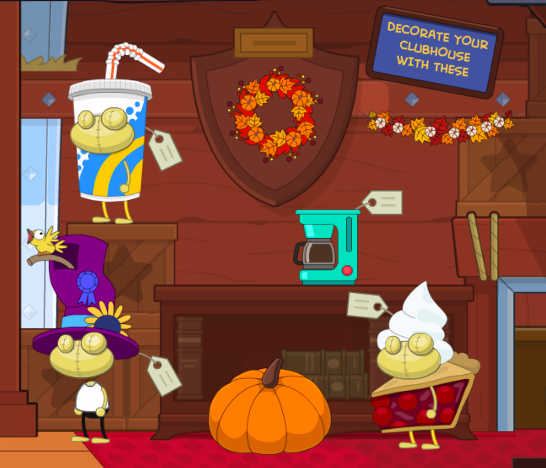 Today is also the last day to enter the Goofy Clubhouse Challenge! In celebration of the outrageous island, we're challenging all players to channel their absurdities into decorating a clubhouse fit for a goofball! Check out all challenge details HERE and get your final submissions in by tonight! The submission window ends tonight at 8pm PST!
One final thing, y'all. Don't miss the poll post below! Vote for of the costume contests' past winning designs to impact which outfits you'd like another shot at snagging. Cast your vote by Sunday, November 28th at 8pm PST!
That's all for today's updates! Share your favorite store items from the new inventory below! Do you have any matching outfits planned with your pet? Perhaps you've got some trendy threads you need other Poptropicans to know about? Don't hesitate to drop 'em in the comments! 
Pop on, friends!