Friday, August 27, 2021
✨CLUBHOUSE CRAWL✨ ft. Golden Moon's Clubhouse! ? ??
We're thrilled to invite you to join us on a clubhouse crawl through Poptropica! Take in the sights and find inspiration along the way as we spotlight players' outstanding clubhouses! 
Our first stop is Golden Moon's cottage! Even upon first look, it's abundantly clear Golden Moon has put in some serious work to upgrade their clubhouse! ?
To the right of the bottom floor is an entire kitchen area that has everything you could think of and more! Oven, refrigerator, and loads of desserts? Sign me up! Not to mention, they're certainly livin' the dream with that soft serve machine.
Just above the kitchen, your Poptropican can kick their feet up and lounge around in the beanbag zone under the planty-ful shelves. Or, if you prefer more room, the landing just above the beanbags has a cozy fireplace and more than enough space to make yourself at home. Whether you like reading in front of a crackling fire, listening to music, taking pictures, or trying on new costumes, this floor of Golden Moon's clubhouse is comfy and charming!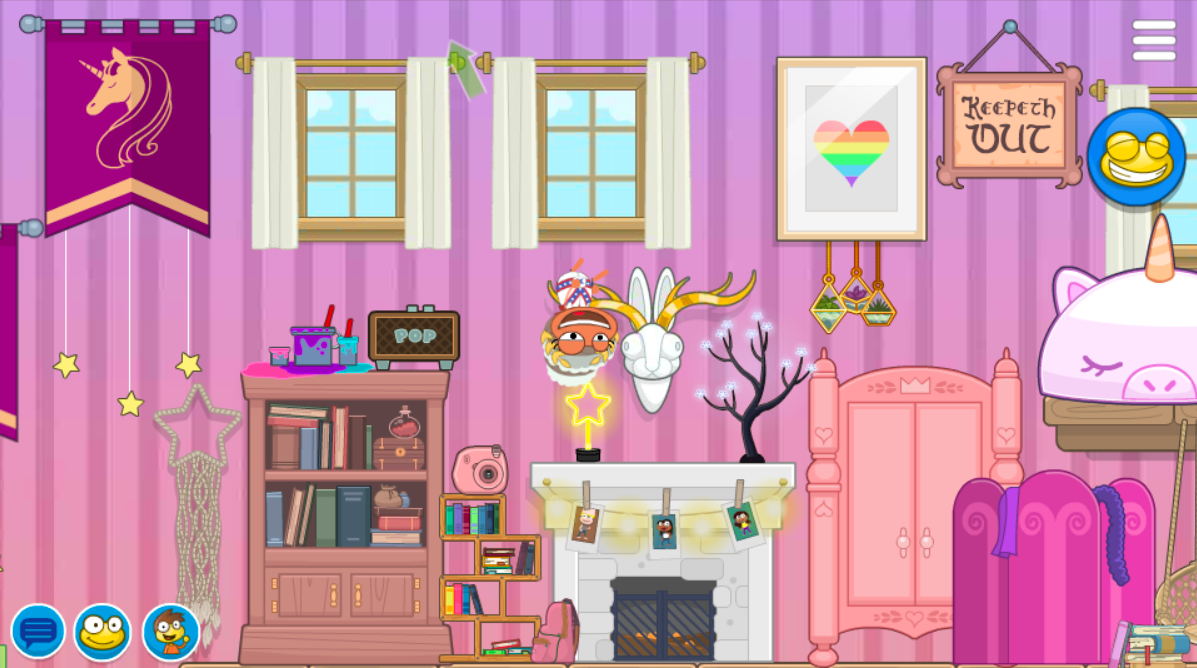 Just a hop, skip, and a jump above that floor is Golden Moon's bedroom. Like the rest of the clubhouse, the bedroom is unicornly decorated with adorable, whimsical accents, plus some cute plushies! Between the fuchsia pink furniture, oversized unicorn plushie, and the hanging lights, it's perfectly enchanting. Did this house come straight out of a fairytale?! Sweet dreams, indeed!
(Agnes from Despicable Me would definitely rate this bedroom a 10/10.)
The lower left levels function as an impressive, modern gaming area, complete with an arcade claw machine, fancy aquarium, cat tower, and even a streaming setup! These floors of Golden Moon's clubhouse are flawlessly organized and decorated to stick to the age-old mantra, "Eat. Sleep. Game. Repeat."
WOOOOOW! What an AMAZING kickoff to our Clubhouse Crawl across Poptropica! Special shoutout and many thanks to Golden Moon for curating this remarkable space! We'll be spotlighting plenty of individual clubhouses, so if you'd like to be featured on our blog, get to decorating – yours could be next! BONUS: no submissions necessary to be featured. You never know when someone from the Creators' Team might pop in and take a look around! ??
Enjoy your weekend, Poptropicans!