Tuesday, July 6, 2021
The Baron and Their Airship Has Arrived on Home Island! 🥳💙
🚨 This is not a drill, Poptropicans. I repeat, this is not a drill. 🚨
The Baron and her Airship have made landfall on Home Island today! And she did not arrive empty handed! Pop into Home Island to greet the Baron and enter the Airship to check out some awesome new features!
You don't want to miss out on this, y'all. The Baron's Airship is only in town for a limited time, but will be returning regularly every single month! This month, the Baron will be staying a few extra days more than usual. The Baron's first reappearance deserves an extended celebration!
Climb aboard the flying vessel, where you can interact with other players, chat, play games, and send friend requests to Poptropicans you meet on the deck! There's even an enhanced invite option where you can invite your Poptropipals, both new and old, to your own private party room! You're transported to a separate room where you can interact with your invitees – friends only!
Best of all, the Baron's Cabin of Curiosities store on the Airship has an amazing collection of costumes and clubhouse decorations! In the Cabin of Curiosities, you can purchase the winning Movie Geek and Love Potion Demon costumes from June's design contest for FREE! 🔥
The Baron has kindly included a tribute to the Poptropicans behind the designs – Bronze Eye and Shy Ghost!
The Baron has plenty of other surprises as well! Past popular costumes and clubhouse decorations have reemerged from the Poptropica vault and can be found in the Cabin!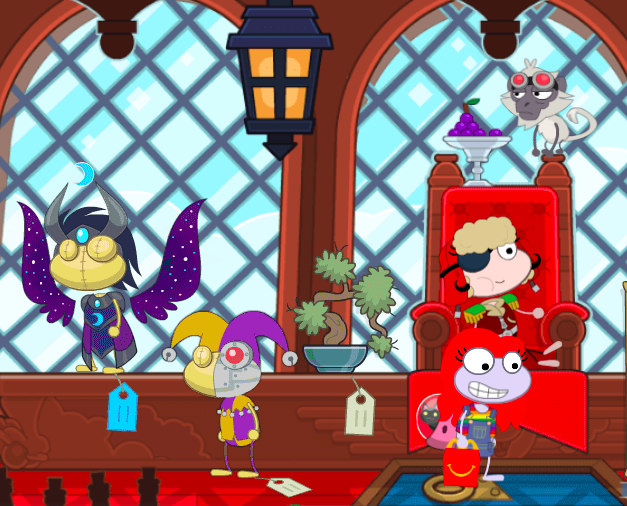 The Baron's Cabin is costumes galore! You can also purchase the memorable Hercules statue from Mythology Island, a bonsai tree, and a portrait of Mordred to decorate your clubhouse! Home sweet home.
Try on Binary Bard's iconic attire. You'll be surprised by how perfect the Bard's ensemble transforms your Popsona into the delightful evil genius.
Not in the mood for evil genius hijinx? Change into the Dragon costume! In Poptropica, dragon costumes are for any day! Need to return the happy endings to the people of Fairytale Island? Dragon costume. Want to solve the mystery of who's behind the carrot thievery? Dragon costume.
Maybe you'd rather wear the Cosmic Noble costume? Press spacebar to change the cosmic costume's coloring from purple to orange! This transformation is outta this world!!
Or, if you want an edgy, otherworldly outfit, try on the Cyber Hunter costume! In this costume, you're ready to navigate the galaxy! Channel your inner futuristic, space cowboy persona through your Popsona! Between the neon accessories and face paint, no one's going to give you trouble.
We hope you're just as excited as us about the Baron and their Airship's arrival to Home Island! There's a bunch of new features that allow you to collaborate and interact with other players, earn credits, and expand your wardrobe! Who knows, maybe you'll even run into some of the Creators' Team aboard the Baron's Airship… 👀  😉
---
The Baron and their Airship will only be docked for a limited time, so tune in before it's too late! What do you think of the latest update, Poptropicans? Let us know in the comments below! 👇