Thursday, April 14, 2011
New in the Poptropica store
New in the Poptropica Store: the Midnight Red Ninja costume!


This new ninja costume is inspired by the upcoming Red Dragon Island. The Midnight Red Ninja outfit is available exclusively to Poptropica Members.

All Poptropicans can also pick up two classic Japanese-inspired costumes: the original Midnight Ninja, and the Samurai.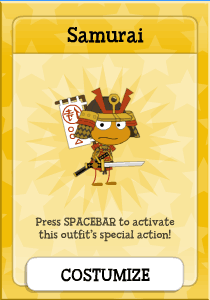 Cool, huh?




BLACK WIDOW