Friday, September 3, 2010
Captain Crawfish's Steamworks Island travelogue, part 2
All right, has everybody had something to eat? Checked your email? Gone to the bathroom? I want to make sure you're all paying attention. It cost me a lot of money to have these pictures developed.

After having my fun with the nuts and bolts of Steamworks Island, next I happened upon some sort of massive, upward-blowing fan. Strange -- why was this functioning was so much of the machinery on the Island was rusted and useless?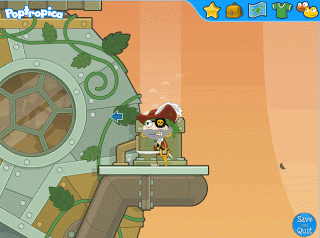 No matter. When you come across airflow like this, you've got to ride the slipstream.


The wind rocketed me into the air!


These things are all over the place on Steamworks Island. You can really catch some air. You can probably use them to complete the quest, too, but why rush?



CAPTAIN CRAWFISH